Floor Plan
Your future residence has everything you need to feel at home, whether it's a private studio or a four-bedroom layout. Ideal for anyone who values more privacy and solo living, studio apartments come with everyday staples, including refrigerators, wooden cabinets, carpeting, and spacious linen and bedroom closets. Our four-bedroom homes feature the same perks and are the perfect layout to share with friends. Enjoy furnished common areas and individually lockable rooms with private bathrooms and built-in desks. Extra additions include pantries and dishwashers.

Our team can't wait to help you select one of our apartments for rent in Flagstaff, AZ.
Four Bedroom (Rent by Room)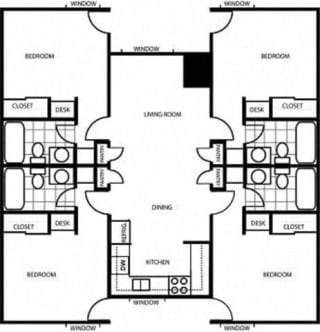 All residents are required to carry renters' insurance at all times while living at our property. We require a minimum of $100,000 for liability insurance and contents coverage is at the discretion of each resident. For your convenience we work with Resident Shield and are able to offer pre-approved, low cost insurance protection that satisfies all requirements and automatically provides all information to our office. If you choose to use a different insurance company, please contact the leasing office for all specific requirements that must be met.
Map View