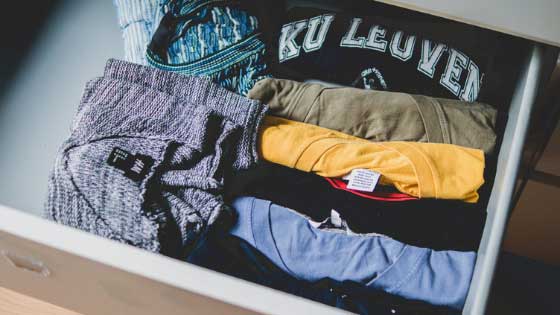 Summer is ending, and that means it is time to drag out the fall wardrobe and put away the summer clothes until next year. Help keep your clothes in good condition by following these tips for storing off-season clothing.
Fold or Roll Your Clothes
For most people, finding enough space for out-of-season clothes is a problem, so they tend to keep the clothes in damp storage rooms or other areas of their home with less-than-ideal conditions. This can often lead to damage from moisture as well as insect infestations. It is a much better idea to store your clothes in your closet or under the bed. But what if you still don't have enough space? Learn to fold or roll your outfits correctly.
Properly folding or rolling clothes not only reduces the necessary amount of storage but can actually help to keep your clothes neat and clean. If you have never used the Ranger rolling method, also called the Army rolling method, you will be surprised how much room you can save.
Use a Vacuum Bag
After folding or rolling your clothes, do you find you have too many to hide in plastic bags or in totes under your bed? Then opting for vacuum bags may be the perfect solution. Vacuum bags can help you quickly shrink huge mounds of clothes into a more manageable size.
Wash and completely dry your clothes.
Fold your clothes as usual. Pay extra attention to smooth out any wrinkles.
Place in a vacuum bag.
Attach the hose of a vacuum cleaner to the bag's connector, and suck out as much air as possible. Store as you usually would.
There are many types of vacuum bags, ranging from travel size all the way up to jumbo-sized bags, which will protect quilts and pillows.
There are many apartments in Flagstaff, Arizona too, but there is only one Pine View Village. Call us to arrange a showing.