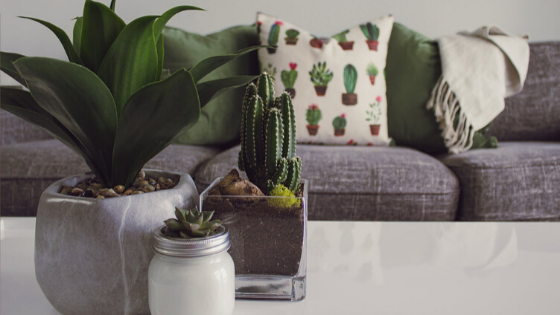 Your living room in your Flagstaff apartment sure is nice, but it could use a little more "oomph" to match your personality. The problem? Your budget is looking a bit slim, so even though all those designer decorative pieces are attractive, you just don't have the money. No worries—you can achieve a lot on a shoestring budget where apartment decorating is concerned. Here's a look at a few good ideas.
Build something spectacular from dollar store items.
You can find some really neat things at just about any dollar store, or even already lying around your house, but most of these are not designer-decor worthy. The trick is to pull together certain items and make something that is design worthy. The Sorry Girls on YouTube do this a lot, and some of their creations look nothing short of fancy even though they cost just a few bucks. For example, you can pick up small mirrors and hang them together on a wall for a mosaic look or create a makeshift lantern out of glass picture frames with simple metal frames.
Order secondhand items online.
What do people do when they are tired of looking at things? They tend to pass them along at donation drop-off points across the country like thrift-stores or sell them online. Many thrift stores even sell directly online now as well. You can get some really good deals on pricier furniture and decor by shopping at these places. BlesserHouse blog covers some really cool way to use ordinary thrift-store finds for designer purposes as well. For instance, a stack of vintage suitcases can make an awesome accent in a corner of your living room if you have a travel theme, and brass wall sconces look amazing when brushed with some chalky white paint.
Decorating the living room in your Flagstaff apartment doesn't have to mean spending a lot of money. Reach out to us at Pine View Village to find out more about how our apartments are easy to look designer with just a few touches.